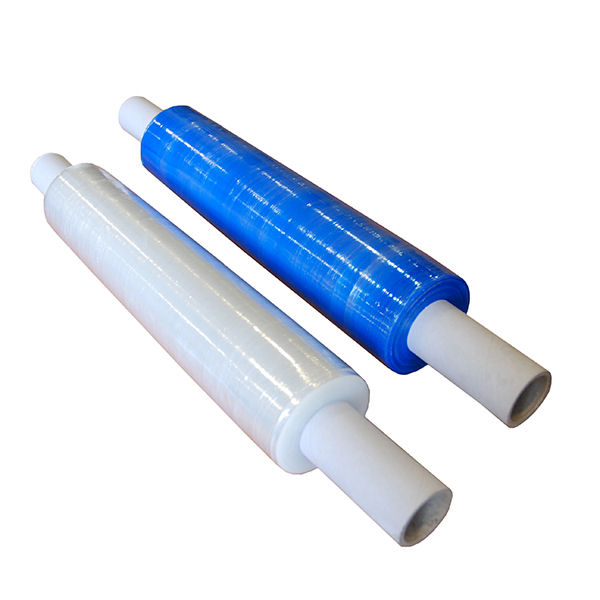 PALLET WRAP 17 MICRON (6)
€36.00
400MM X 200M CLEAR
QTY 6 ROLLS
€36.00 PLUS VAT
Extended core pallet wrap
Pallet wrap (also known as stretch wrap and stretch film) with an extended core, making it easier and quicker to wrap around goods by hand.
Great for keeping goods tightly bound and palletised items stable, the film will retain its tension whilst in transit.
Extended core stretch film is easily applied by hand thanks to the extended cardboard core which effectively acts as a handle and can be held whilst wrapping the film around your products. The wrap adheres to itself once it is wrapped around your goods and protects them against dust and weather.


Key features and benefits include:
Strong resistance to puncturing.
Applies a high force onto a pallet, when wrapped around it. This helps improve load stability.
The film is very tacky so is suited to very cold working environments (-32 degrees C)
The tacky nature of the film also means it will stick in very dusty working areas.
Good level of transparency allowing labels or barcodes to be easily read.
The manufacturing nature of cast film makes it very consistent, throughout the roll, in terms of both cling and material thickness.
When unwinding cast stretch wrap off the roll it has a low noise output making it ideal in reducing noise levels in busy working spaces.
Compared with cheaper, lower quality films on the market our cast film has high resistance to tearing.
Our pallet wrap meets ISO 9001 standard quality certification and all of our stretch films are subject to the following quality checks.
Friction: How smooth the film is.
Dart Drop Impact: Pressure required to puncture the film.